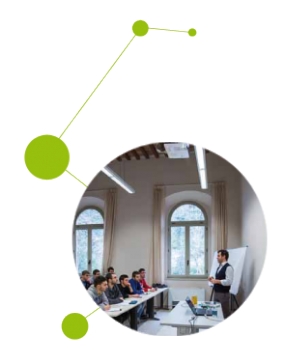 The course "Higher Technician for Energy Saving in Sustainable Building" will enable the young graduates to become "Specialized Technicians" in the field of construction and buildings.
The training course consistes of 2000 hours, in 2 years.

Main topics of the training courses are:
Recovery of existing structures
Energy analysis of the building envelope and the building
Methods and techniques for sustainable recovery
Methods and techniques for the construction of NZEB buildings
Assessment and certification of sustainability in construction
Techniques for enclosures and dry layered technologies
Prevention and safety in the workplace
European and national legislation for energy saving
CAD
Energy audits of buildings and systems
Systems of buildings
Solar energy: thermal and photovoltaics
Innovative energies: wind, geothermal, biomass
Construction management and works management
Automation and home automation for energy saving
BIM (Builiding Information Modeling)

Lessons take place in well equipped laboratories and schedule internships (over three months in Italy and three abroad) with companies working in the sector of construction and buildings.
Most of the lessons are practical, in equipped laboratories:
solar thermal energy;
photovoltaic and wind energy;
home automation and automation for energy saving;
renewable energies training and evaluation and certification of buildings categories
COMPETENCES AND SKILLS
At the end of the course, the Higher Technician for Energy Saving in Sustainable Building is able to:
design buildings by applying the proper methodologies of sustainable construction
implement sustainable recovery measures for existing buildings
monitor the application of EU and national legislation and technical regulations
coordinate site activities in an integrated executive design
masterfully manage the technical skills related to: energy saving and energy certification, energy efficient enclosures, thermo-technical systems powered by alternative energies, acoustics, home automation, environmental impact assessment
manage the integration of the various technologies in the construction on site
acquire the technical skills of planning, programming and coordination of safety on building sites / buildings
acquire the technical skills for the energy certification of buildings
QUALIFICATION
At the end of the course "Higher Technician for Energy Saving in Sustainable Building" the students have a 5 level qualification according the European Qualification Framework.